Big. You can read a book just in the light of a shrinking plant sitting at a table. Researchers at the Massachusetts Institute of Technology (MIT) in the United States crossed the first and seemingly impossible barrier to make this dream a reality. Have done In one of the plants grown in water, also known as salad water, special types of nanoparticles were inserted. As a result of this experiment, the plant kept on for about four hours.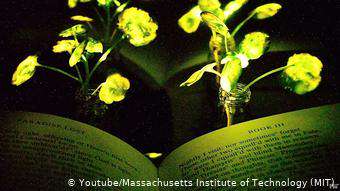 Researchers hope that in the future, this technology will be developed so much that at any time, it will be enough for plants to shine at night or for full light. "We want to create a plant that works exactly like a table lamp and obviously has a switch," says Dr. Michael Streino, who is involved in this research and associated with the chemical engineering department at MIT. Don't be Light must ultimately be available through the energy of the metabolism inside the plant. "According to scientists, this technology could be used in the future for dim light or indoors lighting the trees in street lights. Can also be changed. The main researcher of this research is Seun Yong Kok, post-doctorate at MIT, and this research is published in the scientific journal Nano Letters.
Nanotechnology Plants The basis for research in nanotechnology plants was laid out by Streino Lab. The purpose of this research institute is to introduce different types of nanoparticles into the plants and give them new features. This company seeks to reap the benefits of the plants, which are derived from electrical appliances. In the past, scientists have also developed plants that detect explosives, exchange information with smartphones, and can also monitor conditions such as drought. Twenty percent of the world's total energy is used to capture light. This new research can be extremely helpful in saving a lot of energy.
According to Dr. Michael Streino, "Plants can repair themselves, they have their own energy and they are already adapted to the external environment. We think the time has come to implement this theory and nanotechnology is the best technology for it. "In this new research, scientists at MIT used luciferase (a light-emitting enzyme). It is the same biochemical substance that causes light to emit from the body of the jugs. The molecules found in Luciferase contain luciferase and the light is emitted from it. Another molecule also helps in this process, which is actually a "co-enzyme" or "co-enzyme". This 'enzyme' inhibits the reaction, which may be triggered by luciferase activity. In the past, there has been genetic research to produce light in plants, but the light emitted from the plants that were produced after the genetic mutation was very dim.
This research was done on tobacco and another plant. These two plants are often used in genetic research. Scientists believe that a color or solution containing nanoparticles will also be developed in the future, which will be illuminated by spraying it on leaves. In this way, the light source can be taken from large trees.